Today, I'm participating in the Grow.Swap.Share. I'm posting over at Miss Information about how to make paper doily pom poms. I'd like to welcome Kelley from Miss Information
Hi everyone my name is Kelley and I am
Miss Information
. First I want to take a moment to than Jos for letting me invade her corner of the world. We are doing a blog swap brought to you by Julie at
My Favorite Finds
and Carrie at
White Lights on Wednesday
. Please go visit these great blogs.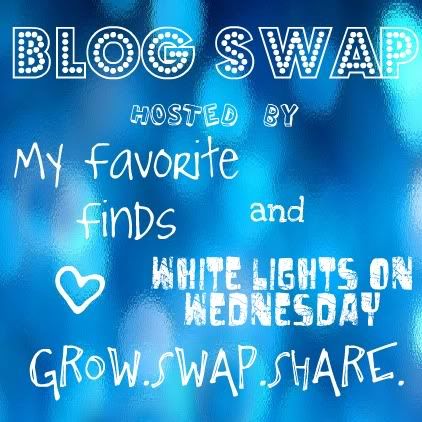 Miss Information
is where I share recipes, crafts, and family. I also share information on ADHD and Sensory Integration Disorder. I live in the USA in Georgia with my hubby and 2 boys Garrett 8, and Matthew 3. I hope you will stop by and visit and see some of the other things I've cooked and created.
I was wanting to make an end of year treat for my sons's class at school. So the boys and I set out to make suckers with jolly ranchers. The boys loved them and they were a total hit with his friends.
You will need:
candies
sucker sticks
non stick foil
a cookie sheet
Preheat your oven to 200 degrees.
Then take one of the best inventions EVER Reynold Non-Stick Foil and line a cookie sheet. The boys helped me unwrap the candy and we laid them out in a square, you can do other shapes as well.
You will want to make sure when you put them on the pan you alternate them
so that you have room for your sucker sticks.
Put them in the oven for 5 minutes, when you pull them out you immediately lay the sucker stick into the melted goo and twist it to cover it in candy
Now you can see why you need to alternate and leave room. These are so easy and fun for the kids to help with they can do most of the steps. they turn out beautiful and look like stained glass windows
Pin It